Thumbnail Database Cleaner
© 2007 Igor Tolmachev, IT Samples
When you browse a folder with pictures, like My Pictures folder, you can view the files in a thumbnail format, like a bunch of small previews. These small preview pictures are stored in a special file, called a thumbnail cache database.

Depending on the Windows version, they are thumbs.db, ehthumbs.db, and thumbcache_*.db files. Usually, these files are system and hidden. These thumbnail databases can be read with special software and used in Digital Forensics as evidence in both civil and criminal cases.

Thumbnail Database Cleaner enables you to clean up thumbnail cache files.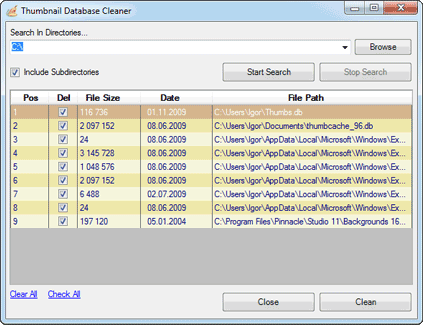 Thumbnail Database Cleaner requires .NET Framework at least version 2.0.
You can obtain Microsoft .NET Framework here.

Just run this utility and search for thumbnail cache files, then choose desired items in the list and click the Clean button.


Downloads

version: 1.2 download program (65KB, revised April 10, 2016)

version: 1.1 download program (64KB, revised March 25, 2013) download source (C#)


Feedback
If you encounter a problem while running this utility or you have any suggestions, comments, you can send a message to
support (at) itsamples.com
Comments

Did you find software that was helpful? Please make a little donation
here
.