Advanced Privacy Cleaner Bar
© 2005 Igor Tolmachev, IT Samples
While browsing the web, Internet Explorer stores information about the websites you visit and information that you're frequently asked to provide (for example, your name and address). This information includes Temporary Internet files (Browsing Cache), Cookies, and the History of the websites you've visited.

Usually, it's helpful to have this information stored on your computer, because it can improve web browsing speed and save the traffic (by re-using stored files), or automatically provide information, so you don't have to type it in repeatedly. For example, you may want to delete that information if you're cleaning up your computer or are using a public computer and do not want any of your personal information to be left behind.

Advanced Privacy Cleaner Bar (or APCB for short) can easily explore and selectively clean your Internet Explorer History, Cache, Cookies, typed URLs, Run History, Recent Documents, and index.dat files. APCB is a useful Explorer Bar that can be opened directly in a window through Internet Explorer or Windows Explorer, which gives you an additional advantage while searching and displaying information.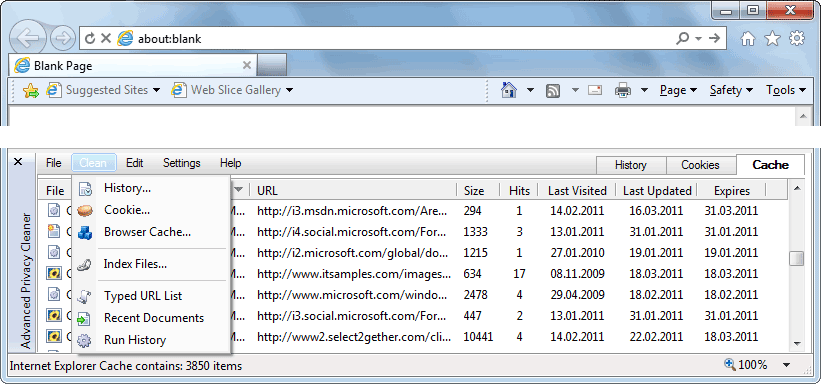 Unlike other standard tools within Internet Explorer or standalone programs, APCB allows the selective cleaning of Cache, Cookies, and History by a visited date, URL, or cached file type (full cleaning of data is also available with one click).

The data is displayed in a clickable table with the option to sort and advanced search, which can be saved as a web page for future reference. APCB can help you find information even if your History or Temporary Internet Files was cleaned by standard Internet Explorer tools. Also, APCB allows you to open, examine, and clean the contents of the index.dat files, which contain full information of your internet activity.
Downloads

download (452KB, revised February 7, 2015)

• Download the setup package.
• CLOSE ALL RUNNING PROGRAMS.
• Run PrivacyCleanerInstaller.exe and follow the on-screen instructions.

Feedback
If you encounter a problem while running this utility or you have any suggestions, comments, you can send a message to
support (at) itsamples.com
Comments

Did you find software that was helpful? Please make a little donation
here
.