Thumbnail Database Viewer
© 2016, 2011 Igor Tolmachev, IT Samples
Thumbnail Database Viewer enables you to view thumbnail cache, which is used by Windows to speed up the display of thumbnails in folders (thumbs.db, ehthumbs.db, thumbcache_*.db files).
The cache stores all thumbnails created in a folder even if the original image has been deleted.

Thumbnail Database Viewer can be used in the forensic analysis of thumbs.db (ehthumbs.db, thumbcache_*.db) files providing details of when images were saved, their names, and storage locations.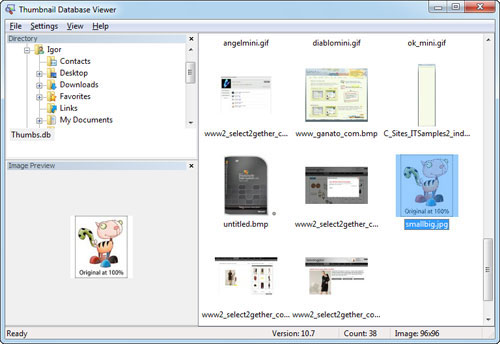 Run the program and browse for thumbnail cache files from the directory bar. Also, you can drag & drop thumbs.db or thumbcache_*.db files on the main window.


Downloads

version: 2.2 download (381KB, revised April 30 2011)

version: 2.0 download (370KB, revised December 18, 2008)

version: 1.1 download program (59KB, revised March 15, 2006) download source (C#)


Feedback
If you encounter a problem while running this utility or you have any suggestions, comments, you can send a message to
support (at) itsamples.com
Comments

Did you find software that was helpful? Please make a little donation
here
.