System Reserved Volume Explorer
© 2017 Igor Tolmachev, IT Samples
Description
Before installing Windows 7 or later, Windows setup creates a 100 MB reserved partition on a new hard disk.
This partition is hidden and contains boot files and Windows Recovery Environment files. Windows does not allow exploring and deleting this partition, preventing crucial Windows boot files.
System Reserved Volume Explorer allows you to explore, view files content and properties, and save any files from the System Reserved partition.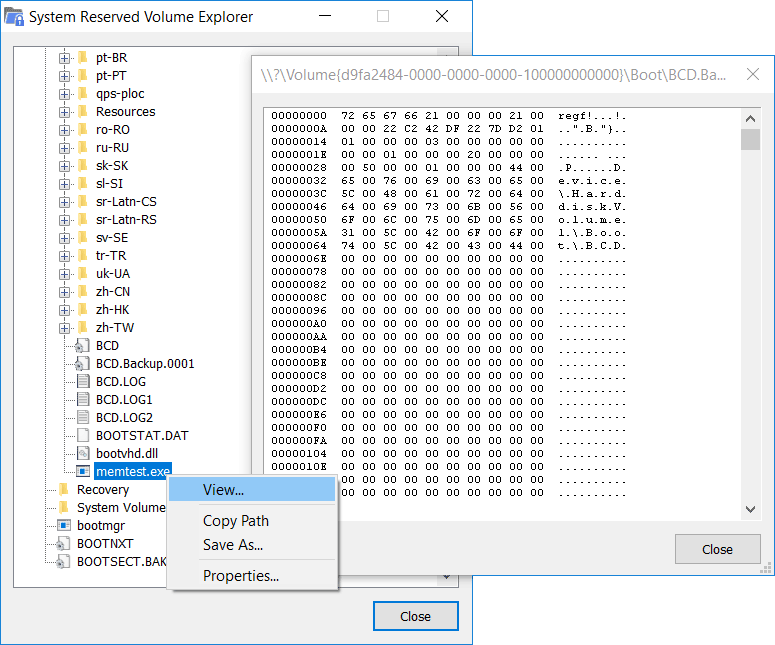 Related Links
Network Activity Indicator
Thumbnail Database Viewer
Windows Service Master
Notification Area Cleaner
EXIF Date Changer
Thumbnail Database Cleaner
Using
Just run this utility and explore System Reserved partition; use context menu for different actions (View, Save As, Copy Path, Properties).
License
This utility is released as freeware. You are allowed to freely distribute this utility via floppy disk, CD-ROM, Internet, or in any other way, as long as you don't charge anything for this. If you distribute this utility, you must include all files in the distribution package, without any modification!
Disclaimer
The software is provided "AS IS" without any warranty, either expressed or implied, including, but not limited to, the implied warranties of merchantability and fitness for a particular purpose. The author will not be liable for any special, incidental, consequential or indirect damages due to loss of data or any other reason.
Downloads
download 32-bit program
(70KB, revised April 17, 2017)
download 64-bit program
(81KB, revised April 17, 2017)
download source
(C++, WTL)
Feedback
If you encounter a problem while running this utility or you have any suggestions, comments, you can send a message to
support (at) itsamples.com
Comments