HPI Converter
© 2006 Igor Tolmachev, IT Samples
Description
Excellent source libraries of photographic stock images are sold by Hemera (
www.hemera.com
), under the product name
Hemera Photo Objects
. Unfortunately, Hemera has not published the HPI file format structure.
Any HPI file contains color and mask information: color image information is presented in JPEG format, and the grayscale mask information is presented in PNG format.
HPI Converter allows you to open, display, and extract the two data components, JPEG image and PNG mask, from Hemera Object files ('.hpi' file extension).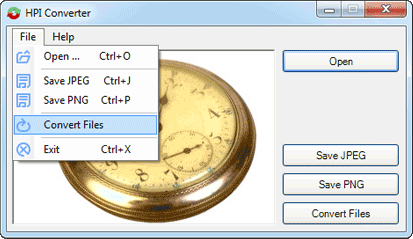 You can obtain Microsoft .NET Framework
here
License
This utility is released as freeware. You are allowed to freely distribute this utility via floppy disk, CD-ROM, Internet, or in any other way, as long as you don't charge anything for this. If you distribute this utility, you must include all files in the distribution package, without any modification!
Disclaimer
The software is provided "AS IS" without any warranty, either expressed or implied, including, but not limited to, the implied warranties of merchantability and fitness for a particular purpose. The author will not be liable for any special, incidental, consequential or indirect damages due to loss of data or any other reason.
Downloads
version: 1.0
download program
(60KB, revised December 17, 2006)
download source
(C#)
samples:
download sample hpi images
(276 KB) for evaluation purposes only.
Feedback
If you encounter a problem while running this utility or you have any suggestions, comments, you can send a message to
support (at) itsamples.com
Comments