QR Coder for Internet Explorer
© 2014 Igor Tolmachev, IT Samples
Description
QR Coder is an Internet Explorer plug-in that allows you to create a QR Code link to the currently opened web page, external links or selected text inside Internet Explorer window.
QR Coder adds 3 entries into the standard context menus in Windows Internet Explorer:
Generate Page URL QR Code
Generate Anchor QR Code
Generate Selection QR Code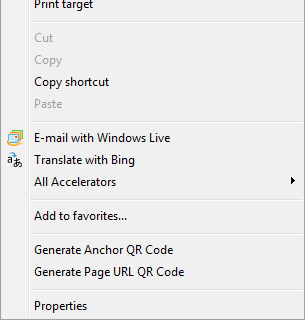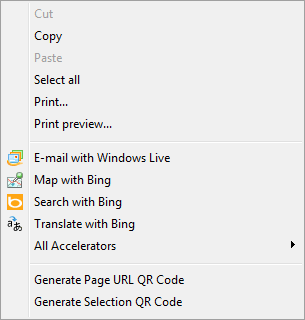 QR Coder generates QR code image and places it on the left top corner of Internet Explorer window or near cursor position for external links.

Related Links
Asterisk Master
F & P Switcher
IEditor
IE History Monitor
StatusBar Progress
WebTricks
License
This utility is released as freeware. You are allowed to freely distribute this utility via floppy disk, CD-ROM, Internet, or in any other way, as long as you don't charge anything for this. If you distribute this utility, you must include all files in the distribution package, without any modification!
Disclaimer
The software is provided "AS IS" without any warranty, either expressed or implied, including, but not limited to, the implied warranties of merchantability and fitness for a particular purpose. The author will not be liable for any special, incidental, consequential or indirect damages due to loss of data or any other reason.
Downloads
version: 1.0
download
(347KB, revised February 22, 2014)
Installation
1. Download the setup package, qr-coder-ie.zip.
2. Unpack it using WinZip or another ZIP utility.
3. Read License Agreement, which is in the LICENSE.TXT file.
4. CLOSE ALL RUNNING INTERNET EXPLORER WINDOWS.
5. Run Setup.exe and follow the on-screen instructions.
6. After the installation QR Coder can be accessed from the conext menu of Internet Explorer.
Feedback
If you encounter a problem while running this utility or you have any suggestions, comments, you can send a message to
support (at) itsamples.com
Comments