Disk Activity Indicator
© 2014 Igor Tolmachev, IT Samples
Disk Activity Indicator is a little application that displays a customizable blinking icon on the System Tray whenever selected hard disk or USB media is accessed.

Disk Activity Indicator can be useful if your PC doesn't have an HDD led (laptop/ultrabook) or if you connected to remote PC using RDP or VNC/RFB applications.

With the Settings dialog box, you can select which of the logical disks or hard drives you want to monitor, specify update intervals, and customize the icons. Additionally, there is an option to run the program at system startup.

You may need to modify your System Tray options, so Disk Activity Indicator stays visible at all times.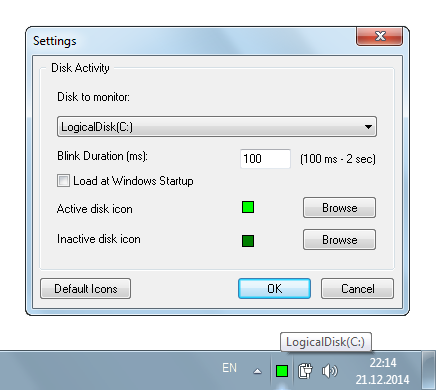 Run the program; this will add a new icon to the System Tray. You can bring up the menu by clicking the Disk Indicator icon on the System Tray. With the menu options, you can open the Settings box, observe installed hard drives and removable media information, or exit the program.


Downloads

version: 1.0 download (45KB, revised December 21, 2014)


Feedback
If you encounter a problem while running this utility or you have any suggestions, comments, you can send a message to
support (at) itsamples.com
Comments

Did you find software that was helpful? Please make a little donation
here
.