Windows Service Master
© 2010 Igor Tolmachev, IT Samples
Windows Service Master allows you to enumerate all services on a system, display selected service information (including service name, display name, service status, startup type, account, description, binary module), stop/start, or uninstall selected service.

Windows Service is a long-running executable that performs specific functions with 'System' privileges and which is designed not to require user intervention.
Windows Services can be configured to start when the operating system is booted, run in the background as long as Windows is running, and execute higher privilege operations, which otherwise cannot be performed by general processes.

Due to these advantages, often, malware applications use services to monitor and control the target system. Windows Service Master makes it easy to find such malicious services and eliminate them.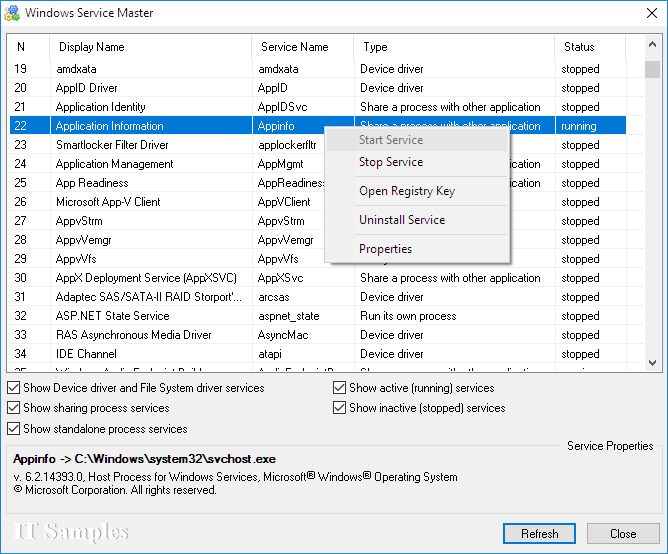 Windows Service Master does not require any installation process. Just copy the downloaded executable file to any folder and launch it. You can click on checkboxes at the bottom to show active/inactive services, built-in windows services (device drivers, file system), or standalone services.

Once the particular service is selected, you can use the context menu to start/stop, open registry key, or uninstall that service. Also, the service list can be reloaded by clicking on the 'Refresh' button.


Downloads

version: 1.0 download (54KB, revised April 11, 2010)


Feedback
If you encounter a problem while running this utility or you have any suggestions, comments, you can send a message to
support (at) itsamples.com
Comments

Did you find software that was helpful? Please make a little donation
here
.