TCP Monitor
© 2005-2012 Igor Tolmachev, IT Samples

Related Software
TCP Monitor is a Windows program that will show you detailed listings of all TCP endpoints on your system, including names of remote servers and state of TCP connections.

Under Windows XP and newer TCP Monitor allows you to display all network processes and kill them if needed. Additionally, you can use the "BlackList" option for controlling any TCP endpoints.

TCP Monitors allow you to adjust the list refresh rate and table colors. Additionally, you can kill any running process or its tree from the context menu.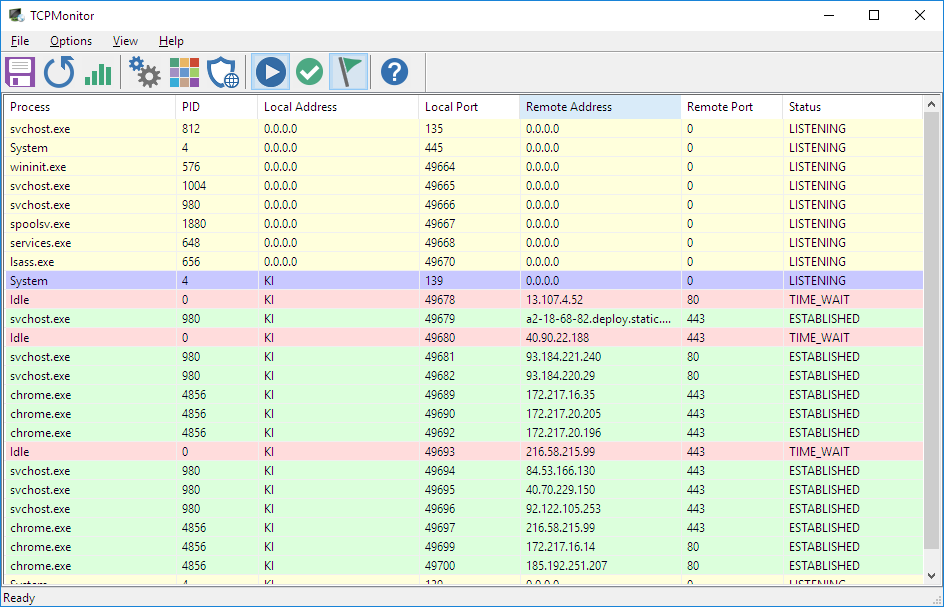 When you start, TCP Monitor will enumerate all active TCP endpoints, resolving all IP addresses to their domain name versions. You can use a toolbar button or menu item to toggle the display of resolved names.


Notes

Sometimes Antivirus scanner reports that a program is infected with a Virus or Trojan, even when the program is not really infected with any malicious code. This kind of problem is known as "False Positive" or "False Alert", and it's quite a common problem in some of the password recovery tools and network tools on itsamples.com site.

If your Antivirus scanner reports that a program you downloaded from ITSamples is infected with a Virus or Trojan, please report to support (at) itsamples.com. Please specify the name of your Antivirus scanner and the name of the Virus/Trojan that it detects.

It's also recommended to contact your Antivirus company and ask them to fix this "False Positive" problem.

See the latest report from VirusTotal.
You can read about similar problems on many blogs, for example
here
.
Downloads

version: 2.3 download (185KB, revised June 14, 2020)


Feedback
If you encounter a problem while running this utility or you have any suggestions, comments, you can send a message to
support (at) itsamples.com
Comments

Did you find software that was helpful? Please make a little donation
here
.