RDP Password Recovery Tool
© 2009 Igor Tolmachev, IT Samples
This utility is designed to decrypt the passwords stored by Microsoft Remote Desktop Connection software inside the .rdp files. Usually, these .rdp files located under My Documents folder.

This utility does not recover passwords on the Windows 10 platform with the latest versions of Remote Desktop Connection utility.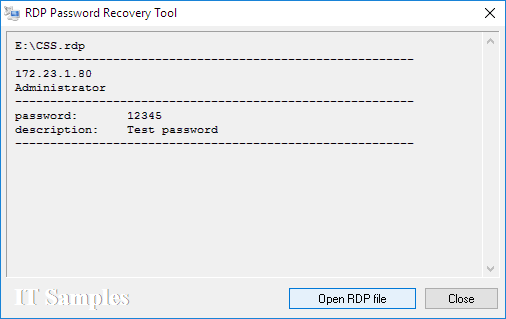 Run the program and browse for an RDP file you want to recover.
RDP Password Recovery Tool can only recover the passwords created by the currently logged-on user. It cannot recover the passwords of .rdp files created by other users.


Downloads

version: 1.0 download program (33KB, revised November 1, 2009) download source (VC++)


Feedback
If you encounter a problem while running this utility or you have any suggestions, comments, you can send a message to
support (at) itsamples.com
Comments

Did you find software that was helpful? Please make a little donation
here
.