Total Commander Password Recovery Tool
© 2009 Igor Tolmachev, IT Samples

Related Software
Total Commander Password Recovery Tool allows you to decrypt the FTP account password information for all versions of Total Commander with the FTP plug-in.

Total Commander stores password information in the configuration file 'wcx_ftp.ini' (usually located in C:\Windows, or AppData, or in the Total Commander installation directory) in an encrypted format.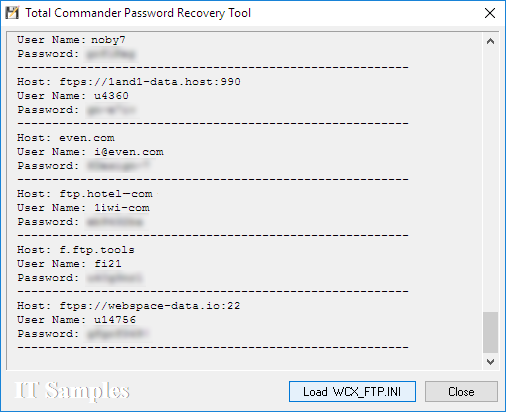 Total Commander Password Recovery Tool automatically detects where the 'wcx_ftp.ini' is stored, extract encrypted password information from it, decrypt passwords, and list all accounts with a hostname, login, and password.
Alternatively, you can browse for a 'wcx_ftp.ini' file you want to recover.


Downloads

version: 1.0 download (26KB, revised November 1, 2009) download source (VC++)


Feedback
If you encounter a problem while running this utility or you have any suggestions, comments, you can send a message to
support (at) itsamples.com
Comments

Did you find software that was helpful? Please make a little donation
here
.